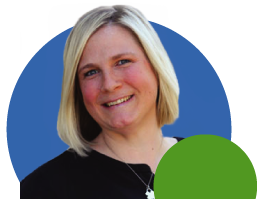 "I feel fortunate to be a nurse at a time when technology has the power to help me care for my patients after they leave the doctor's office."
– Jen Nicastro, BSN, RN, Chief Nursing Officer
Signallamp Spotlight features interviews with some of our talented and passionate team members. Our goal is to provide a peek inside our organization, specific aspects of the profiled role, and a few lesser known details that offer a glimpse into the lives of our Signallamp family outside of work.
This inaugural spotlight features our Chief Nursing Officer, Jen Nicastro.
1. Tell us a little bit about your role and a day in the life.
My role for Signallamp Health is to provide care to chronically ill patients as an RN Care Manager. I work with providers and office staff to help them better manage their patients outside office appointments. When patients leave their doctor's office, I'm there to help them better manage their health conditions, day-in and day-out. A typical day begins with check-in calls with my patients. I complete assessments on their health, provide education and coordinate care with a network of providers outside the practices I'm supporting each day. I reach out to community resources and share educational materials with patients. There are many aspects to the work we do to care for our patients.
2. Why did you decide to do the work you are doing now?
The reason I became a nurse is to help patients get better, recover from illness, educate them on how to stay healthy, and advocate for them. I feel fortunate to be a nurse at a time when technology now has the power to enhance care for my patients. The nursing world offers a diverse set of job types and settings. My job at Signallamp allows me to monitor, care, educate and advocate for my patients on an on-going basis, not just when they're patients in a hospital or visiting their doctor's office. A typical nursing role in the hospital does not allow me to stay connected with my patients after discharge. In my new role, I'm still by their side after they've gone home, keeping them on their plan of care and preventing re-admission.
When I read the job description for a care manager nurse with Signallamp Health, I just knew I had to be considered for the role. It's satisfying to be that extra resource and qualified, go-to person when patients need assistance with their care. I'm invested in my patients' long-term health and well-being. I've never looked back and view this as my new career path.
3. What's your favorite thing about working at Signallamp Health?
That's easy. The ability to build long-lasting relationships with my patients. I can make a real difference in their lives by helping them to better manage their health conditions so they can live a healthier life.
4. If all jobs had the same pay and hours, what job would you like to have?
I'd be a detective. A Sherlock Holmes for nursing care. I love researching and finding out the truth about something or someone, especially when comes to uncovering helpful insights for better health.
5. What would be your ideal way to spend the weekend?
A weekend with my family. Relaxing together on a lake – fishing, swimming, or reading a book. No plans, just a day well spent doing whatever, together.
6. What are some small things that make your day better?
Making people smile, hearing people laugh, knowing that I helped someone in a time of need…big or small.
7. Who's your go to band or artist when you can't decide on something to listen to?
Any artist from the 80's but especially Bon Jovi.