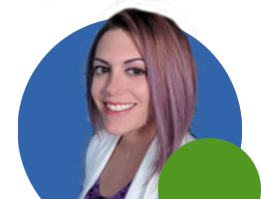 "The appreciation in my patients' voices is my fuel. I am their speed-dial contact to their physician. "
– Eve Yanofsky, RN, Care Management Nurse
Signallamp Spotlight features interviews with some of our talented and passionate team members. Our goal is to provide a peek inside our organization, specific aspects of the profiled role, and a few lesser known details that offer a glimpse into the lives of our Signallamp family outside of work. This spotlight features Eve Yanofsky, RN.
In a few sentences, answer the following:
Tell us a little bit about your role and a day in the life.
I begin each day by cracking my knuckles and logging into the electronic medical record (EMR). The remote EMR is my portal to the patient's current medical conditions and history, and other relevant data and descriptive points to refresh me to the patient and his/her needs. This is the key to triaging (messaging the provider), and facilitates direct communication to the physician.
I guide my patients to break barriers and engage patients to be active participants in their medical care. I am often their "speed-dial contact." I provide the patient knowledge and support as I assist individuals to maintain their health, safety, independence, and best quality of life.
I am also a patient advocate. As a direct link to the physician, I oil the wheels of communication that turn between physician office visits. I resolve unanswered health questions. Patients can be comforted in knowing I am a phone call away.
I see the same medical chart and patient history that the physician reviews at an in-office visit. I message the provider instantly via the patient record. Each call takes into consideration individual patient's current diagnoses, most recent provider visits, and interoffice updates. Each call is goal oriented, promotes patient accountability, and provides comprehensive care and medical options. I approach each call with a positive attitude and a focus on the 'bigger picture' as it relates to his/her health and lifestyle choices. This combination helps to optimize patients' health and independence. I've been able to track noticeable positive outcomes.
Why did you decide to do the work you are doing now?
I was seeking to combine my clinical nursing experience with a company using advanced technology in a meaningful way. Signallamp Health (SLH) was the perfect match. Initially, I was intrigued when I read about SLH in a regional business news feature profiling a local company maximizing patient's quality of life using virtual and remote technology. I met with Jen, the Director of Nursing, and within a couple of weeks, I had a panel of around 500 patients waiting to hear from a Chronic Care Management (CCM) Nurse for the first time ever.
My experience with the geriatric population and helping people obtain the best quality life has been my passion. SLH satisfies my drive and career goals. Interacting with patients by phone and following their progress creates a trusted bond. Patients look forward to the calls. They like being proactive and involved in their healthcare options in a way not previously available to them and at a time in their lives when they are also trying to manage multiple health conditions.
What's your favorite thing about working at Signallamp Health?
Working with technology, the efficiency of SLH's model, and the appreciation from patients. SLH takes clinical nursing care to the next level.
My supervising nurse and team promotes communication and input from employee nurses, to optimize the quality and efficiency of care provided during CCM calls. This means I can spend more time caring for more patients and less time documenting while still covering all the important education points and concerns that a patient may have in their managing their chronic care conditions.
Any time, I can log into the EMR from my home office. Working real-time in a patient's EMR means I have direct communication with the primary care physician (PCP). I can work within the EMR, both before and during their call. This facilitated communication with the physician is a hurdle many practices face. SLH and my CCM role helps to overcome this challenge.
Patients are appreciative to have the direct phone number to call or text at any time, knowing their physician will also be notified and their chart updated with each call. The most poignant lesson for me thus far in my work relates to how mental health in some elderly is negatively affected due to a patient's poorly managed chronic healthcare needs and his/her inability to access care. There are certain aspects of care that improves the day-to-day quality of an elderly persons' mental stability and overall life quality that I've been able to pass on to patients through our work together.
What would be your ideal way to spend the weekend?
With family. My husband and I enjoy community events, art, music, food festivals, and spending time in nature with our dog Cosmo. Cosmo also acts as my office assistant! When I am working, he is often sitting on my lap so he can "feel" the warmth we receive from my calls with patients.
I love being active, outdoors and having fun in the sun – running, hiking, biking and driving on my scooter. Wherever I go and whatever I do, music plays a part. I am waiting to get a keyboard someday soon to jam with the band at home. I'm inspired by and enjoy drawing, painting, photography and learning about innovative art techniques.
What's something you like to do the old-fashioned way?
Cooking. I love food of the earth. It would be awesome to have my own garden and farm one day. We love to cook and travel, and one of my favorite things when traveling is to enjoy indigenous munchies and learn about creative cooking styles. Part of this includes dancing to the music of the land as well!